This is a overview on how to update availability, rates, minimum stays, and more via bulk updating. It is very similar to updating these attributes on your rooms on individual days, but unlike our article that covers individual updating, "Using the Worksheet to Update Availability, Rates, Minimum Stays, and More", this article will teach you how make these changes over a specific time period.
1. For changing the availability over a period of time a bulk update is your best option. Now you will first need to select the a number on the availability row and it will highlight that number so you can change it. But this time do not change the number. You will need to click on the bulk update button shown below.
​

2. This will then bring up a screen that looks like the image below.


​

3. From here you will need to check the little boxes on the left hand side, depending if you were wanting to change the availability of all the rooms at the same time over a certain period or just individual rooms.

If you are changing the all the rooms and their availiability at the same time, it should look like the image below.

​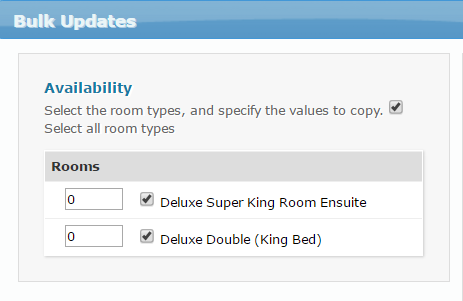 If it's just individual rooms you were wanting to change over a certain period, it should look something similar to this.

​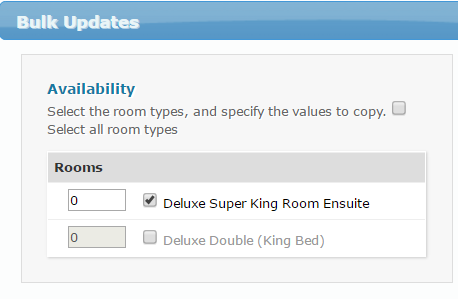 Now remember the boxes need to checked in order for you to make the appropriate changes.

4. Once you have selected the the rooms you want to change availiability, you will need to enter in the number field the number you want the availiability set at. After doing so it will look like this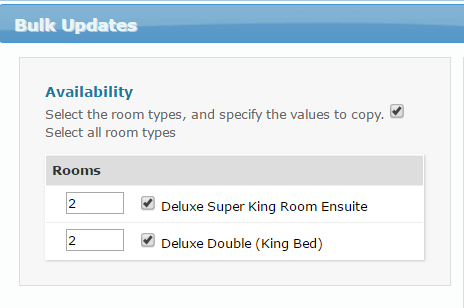 ​
5. The next step is for you to set the period in which you would like this availability to cover. Select the date range you would like it to cover. And you can also select the individual days of the week you would like the availability to be shown on as well. For example in the image below all 7 days are selected so every day will show that specific availability within the specified date range, But you can change that, so let's say you only have monday and wednesday selected, only these days within the specified date range will show the specified availability.


​

6. After all that has been selected and you are happy with it, click on apply and that will make those changes for you and update the availability on webrooms which will also update the other systems Webrooms is linked to.